Favorite Sites
Welcome to Critter's Web!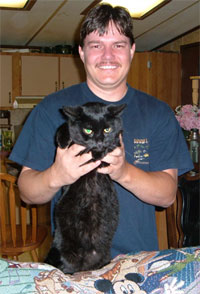 Hi! I'm Critter and this is one of my pet cats, Ranger. Ranger and I would like to welcome you to Critter's Web. We hope that you have an enjoyable stay.
Inside you may find some interesting facts about who I am, things I like to do, and perhaps get a glimpse of some of my thoughts. This is a site about me and who I am.
This site began as an idea quite some time ago, and needing a school project a few years ago, it finally started coming together. The original site was online, almost untouched for several years. After being totally unsatisfied with it's amateurist and outdated look and feel, I decided to do something about that.
I hope you may find things of interest here. Hit me up sometime! I would love to hear from you!
Enjoy!!! :)